Christmas on 15/12---PART 1
1.01 pm ,
15th December
(Thursday) ....................
Mana is 29/26?Finally I found M.hwa house and saw thin bug(boleh jalan de leh, so amazing!Boleh masuk Ripley's believe it or not.) Waiting her 1/2 hour to come back bcoz she go to makan.When she came back with her fren(Ah look,Jacky and Xue Yi).The journey to Kuala Selangor was began. And the driver was who ? Haha , She is our 'MPV champion' ,M.hwa and her car, Toyota unser. (Whisper :Wat champion is it ? 'Langgar' champion lor or called that crash queen!).This is the car......but not so shining lah and has a litte bit new scratch.Y , had new scatch?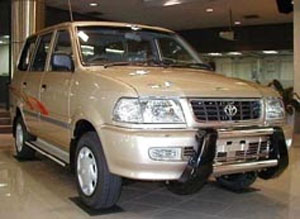 After 2 hours ............
We were arriving at the Jason house. His house was located at S.Buloh estate.(Quite Sian, If I live at there forever lor!).Then sat for a while and play dogdog lor. Where were we staying ? Chalet ? hotel ? On the road ? No, no,no we all lived in bungalow! It is 3 storey bungalow.Wahahaha!The toilet was bigger than my bedroom. And the swimming pool also provided at the greeny garden (but swimming pool cannot berenang de ! Y ?When we jump into pool , ur head pasti 'buka bunga(hoi fa)'bcoz the pool was leaking mah!)
Then............
The time for us to visit Bukit Melawati! Some monkeys climbed on the tree.And the buliding like skyscraper(In fact , the lighthouse is not so tall at all lah, may b my eyes have something problem lor!).Let's see the pic of Alsburg's lighthouse........
We walked for a while at Bukit Malawati. We saw the silver leaf monkeys eating the food that given by other visitors. Do u know wat thing can make monkeys feel like this..........(guess !!!)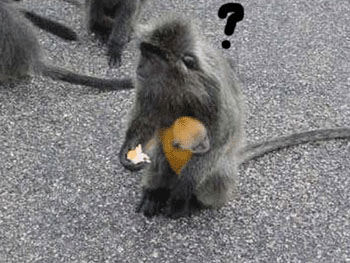 Giv u some tips , OK? Tip: Monkey + Durian = ??? If u cannot answer the quesition.Then u may ikut the monkeys to " zhen c gei goh(cantonease)".Macam gambar ini ............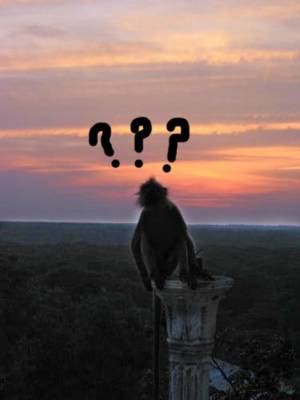 Answer : The monkeys only know how to eat banana , rambutan, and snacker. Durian ? Haha...hanya tengok sahaja lor. Finally , visitor used the screwdriver open for them. Next time , I thinkif someone give durian, nangka, cempedak or coconut.And a few monkeys holding the screwdriver jump down from the trees. Don't feel threaten or nervous, bcoz they were not rompak u lah . They juz learn the new technology from the human for opening the fruits only!So somedays the monkeys at Bukit Malawati will wear sunglasses and hold screwdriver to become "Mondern Monkey Groups", lepak sini lepak sana and smile on u. Don't scare ,bcoz this is wat the human teach the monkeys.And then I will teach them to say " Mou yok da gip(cantonease)"! So the another visitors will feel amazing when the monkeys talk to him, the monkeys will get some money lor. So good leh the idea!!! Wahaha!!


(To be continued---------Part2)